Should I Audition for That?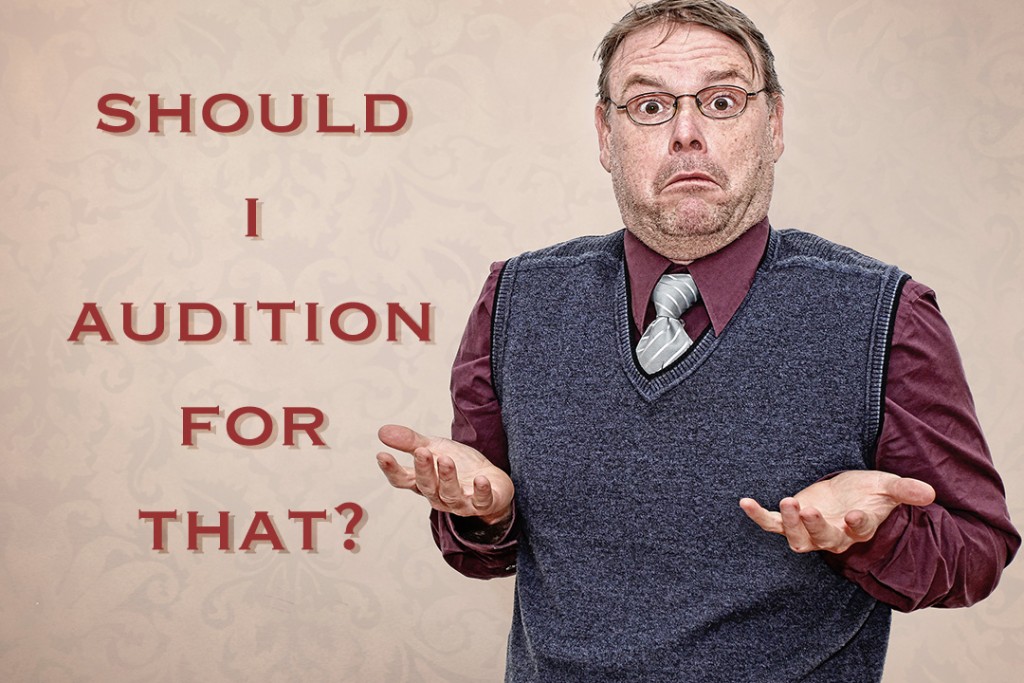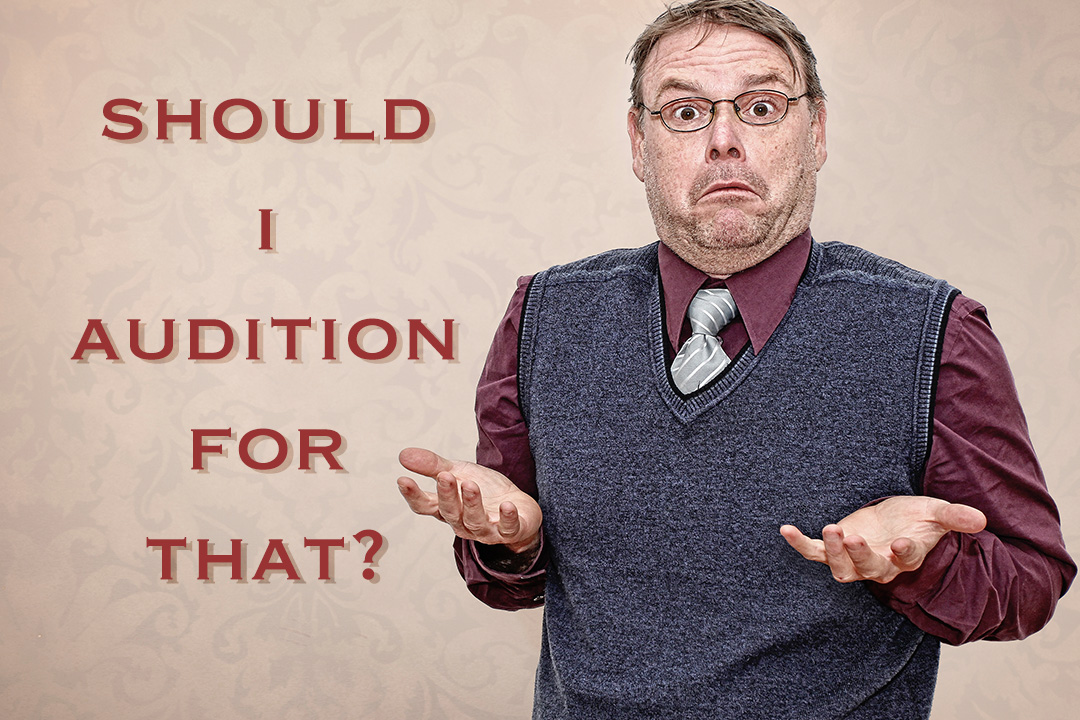 Dear Actor,
If you live were I do (Seattle, WA), and love to ply your craft in front of the camera, then you are probably hungry for work and eager for your next audition. But how do you go about determining if you should even bother auditioning for that potential next gig? We are going to examine that question here and give you some things to consider before you submit your next headshot and resume.
First off, let's discuss how you hear about auditions. Do you have an agent? Are you scouring callboards? Are you subscribed to a site which sends you casting notices? Are you a member of TPS, Northwest Callboard, or Casting Frontier? If you answered yes to these questions, huzzah! You are ahead of the pack and on the inside of the track. If, however, you are not currently finding auditions, well, I just gave you a few leads, above, and you can also read this post for more tips.
If you are getting your hands on casting calls sent via a real (read: member of CSA) casting director, then you are *most likely* seeing calls and breakdowns which are put together well. It is also usually the case that calls posted on the sites I mentioned above are fairly well penned. But, nowadays, many casting calls are posted on Facebook by folks who must somehow be connected to the project, but who usually have no clue how to draft a call. Which leaves actors wondering, "Should I audition for that?"
If you are an actor who is sniffing around the internet for auditions, one thing that may not come as a shock to you, is that many casting calls are extremely poorly written, and some can be exceptionally sexist towards women (see the video below).
Over to the right, I have posted a casting call that I drafted with my producers for a short film we have coming up. The formatting came from the Lights Film School blog, and I suggest checking it out for more info. While I was researching how to put together a compelling and professional casting call, I also stumbled on a great blog which outlines how not to write a casting call, and includes examples like this:
Here is a bad one:

I'm looking for an extremely hot confident actress with really large breasts who is willing to wear lingerie. You will be required to seduce me and throw a bottle of champagne against a brick wall. There is no actual sexual contact you are just trying to seduce me.

And another:

[LEROY] Male, 25-35, African American. A young LeVar Burton at heart, aware he's the token black friend but totally cool with it
If you look a little deeper, you will find that this "Man, casting calls are really lacking finesse and can be horribly sexist" sentiment is trending. Here is a snippet from a piece in Vulture:
This is a NON-UNION breakdown for [redacted]. The rate is $750+10%. Usage: 1 year on air – only on [redacted] … and internet. Roles: Open to any ethnicity, but in order to build a family will probably lean toward Caucasian.

For those who have never tried to make it as an actor, you might assume these are unusual instances of discrimination in the world of commercial casting. But if you receive casting notices regularly — and especially if you're a woman, person of color, trans person, person with disabilities, a combination thereof, or a member of any marginalized group — you probably don't find them all that surprising. These are relatively tame examples of the sort of casual prejudice embedded in casting notices that go out to thousands of people every single day.
Okay. I hope you have a better idea of what good and bad casting calls look like, so now let's turn our attention to whether or not you should audition for a given project, even when the casting call is a hunk of junk.
Production Title: The Lunchbox Brigade.
Additional Info: SAG-AFTRA Short Film Agreement.
Production Type: Independent Narrative Film.
Project Length: Short Form.
Posted On: March 02, 2016.
Production Location: Seattle, WA.
Production Companies: Evil Slave in association with Abundant Productions; Mighty Tripod Productions.
In Partnership with Shoreline Community College Film Department.
Director: Kyle Thiele.
Producers: Ben Andrews, Lorraine Montez, David S. Hogan.
Casting: David S. Hogan.
Audition Location:
Filming Locations: Seattle, WA.
Compensation: Food, Copy, Credit.
Submissions (headshot and resume) to:
KEY DATES
Audition Date and Time: March 12, 2016. 11am – 4pm.
Audition Location:
Callbacks: TBD.
Filming Starts: May 20.
Filming Ends: May 22.
STORY SYNOPSIS:
When Teddy discovers his brother-in-arms, Johnny, has gone to camp for the summer he decides a rescue is in order. Teddy gathers up the neighborhood squadron known as the Lunchbox Brigade and together they embark on an antic-filled plan to infiltrate enemy territory (aka summer camp) and free their friend. But Teddy makes the horrible discovery that Johnny actually wants to be there, leading him and the remaining members of the Lunchbox Brigade to conduct a funny and touching tribute to the loss of one of their own.
ADDITIONAL INFO:
"The Lunchbox Brigade" is the HollyShorts 2015 screenplay winner. Listed as one of the top 25 film festivals for shorts by MovieMaker Magazine, HollyShorts is partnering with Washington production companies to produce this film locally. The short is an automatic entry into HollyShorts 2016 and will be screened at the iconic TCL (Grauman's) Chinese theatre in Hollywood.
CHARACTER BIOS:
Teddy – The Leader. Teddy doesn't smile much. His head tilts back when he is listening. Chin up. Loose brown curly hair sits on top of his head with a sailor cap on the topping it off. The curls come out like little horns from under the hat. He's not the biggest in the group. But you can tell he's going to be a big guy when he grows up. Age: 12. Favorite band ­‐ The Animals.
Clyde – He is the most put together of the group. His "uniform" is always in check. Always cool under pressure. A scar under his left eye is proof of that. His resting position is his folded arms behind his back. His hair neatly combed. Clyde prefers long sleeves to short sleeves. The voice of reason of the group he is the big brain. Age: 12. Favorite band – The Drifters.
Johnny "Jonathan" – His hair is short but a little longer on top. He's about 6 inches taller than Teddy now. His eyes look heavy. Growing up does that to a person. Age: 13. Favorite band – Says it's Jay-­‐Z, but really it is Bonnie Tyler.
Sue –Freckles are peppered across her face. She's the rare paradox of a punker who cares about people. She is taller than the majority of others in her crew. Her hair is mid length because she doesn't like to brush it. Age:12. Favorite band – The Clash.
Logan – He squints his eyes a lot. His hair is cut real short. Not a great hair cut, but it's out of his eyes, which is what he wants. He's scrawny, but scrappy like a terrier. Temporary tattoos are scattered across his arms reminiscent of old sailors. Age: 12 . Favorite band ‐ Rollins Band.
Taylor "Bugsy" – He is the smallest of the group. He is tidier than most of the brigade due to the fact that his mom still dresses him. A patch of hair on the back of his head can never be combed down. His glasses magnify his eyes making them into two unearthly portals. The headgear creates a similar vibe as the rings of Saturn. Age: 9. Favorite band­ ‐ Just the song, "Bohemian Rhapsody" by Queen. Nothing else.
I snatched the below from another forum, and since the forum was public, I don't mind sharing it here without citing the source (because I don't remember where I found it!).
"Should I do that gig?"
I have heard of this formula before, and I employ it often:
Script
Money
People
Two of three of the items should be AMAZING or of considerable interest for you to do any project for the duration of your career. This includes PROFESSIONAL and VOLUNTEER work.
Create your own value. If you don't, someone else will. And trust me, it won't be worth much.
Now, depending on where you are in your career, your formula might look kind of different, but I hope you have some kind of formula, because I do agree with the above sentiment that if you don't create your own value, someone else will. And, if you use the Script, Money, People formula, then you better be savvy at research if things are not clearly laid out before you submit. You may not get the whole script before you audition, but do you love the sides? You better know ahead of time what the compensation is, because if they are not listing that info, then I would slowly…back…away…from the computer. And, people? Well, this one can be tricky, but if you are offered the role, you can inquire, politely, as to who else is attached before you commit.
Here are a few other "formulas" that were suggested on David S. Hogan's Craft Services:
a) Does it challenge?
b) Does it grow connections or skills?
c) Does it fulfill creatively?
d) Does it pay well enough to fund other creative efforts

1. Money?
2. Fun?
3. Will it progress your career?
Oh, and before you go, here is a pathway to training with us, and here is an article you want to read BEFORE YOU SUBMIT!
Thanks for reading! We love comments, so leave yours below!