The Art of the Audition, The Business of the Art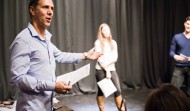 Paul Weber, CSA, will be in Seattle from Los Angeles to run his extraordinary workshop for actors, The Art of the Audition, The Business of the Art on August 10 (adults) and 11 (youth), 2013.
This workshop, as the title suggests, will teach actors how best to succeed during their on-camera auditions. While the workshop will be of benefit for any actor, it is especially relevant and essential for actors who are auditioning for film and television.
Having cast over 75 Features and television series, including "Spartacus", "Legally Blondes","The Outer Limits", "Dead Like Me", the "Stargate" trilogy series, and many more, I have been privileged to work with a number of truly gifted and creative  artists, spanning genres from family films to fantasy, comedy to science fiction. – Paul Weber
The workshop will focus on:
Why certain actors succeed.

Marketing and branding.
How to empower yourself so you can take charge of the audition.
How to handle rejection.
The laws of attraction for actors.
Your headshot and resume'.
The anatomy of the audition.
How to make the boldest choices in the room.
The importance of listening.
Cold reading.
Script analysis.
How to deliver your best read the first time.
Why actors fail.
And more!
Paul has Seattle roots, and comes from an acting background, having worked at The Seattle Rep, ACT, Seattle Children's Theatre, and more.
Not unlike many casting directors, I started my professional life in the industry as an actor, first on stage, professionally, and then in Television and Film. Those experiences have informed how I approach my work as a casting director, teacher, and audition coach. – Paul Weber
We are thrilled that Paul Weber is coming to Seattle to work with Mighty Tripod Productions in order to elevate and inform local actors, so we can all bring our auditioning game to the next level. Angela and I have both taken this workshop with Mr. Weber, and we could not recommend it more highly.
Having taught the Art of the Audition throughout the U.S, Canada, England, Australia and South Africa, my goal is to inspire the actor to take the next step in their careers with confidence, commitment and passion. – Paul Weber
We are excited to offer workshops for ADULTS and YOUTH. Adults – CLICK HERE to register. Youth CLICK HERE to register.
Hope to see you in the workshop!
~ David
[vimeo url="https://vimeo.com/38885777″]