Into the Trenches with Jodi Rothfield, CSA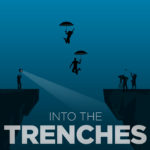 Welcome to the Into the Trenches podcast from Mighty Tripod.
In this episode, Angela and I hop into the booth (recorded pre-COVID) with one of our favorite Seattle casting directors, Jodi Rothfield!
Join us as we pick her brain about casting, auditioning, and the PNW entertainment industry.
For more episodes, CLICK HERE.