Into the Trenches with Ben Andrews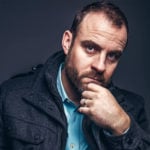 In this episode we talk to filmmaker, director, actor… well, let's just say Creative Juggernaut, Ben Andrews!
We talk to Ben about how we met and the beauty of our friendship, the Seattle Film Summit, auditioning for NBC's Grimm, the trials and tribulations of being IN THE TRENCHES… and more!
We are grateful to have had Ben Andrews on as our first podcast guest.