10 Audition and Etiquette Tips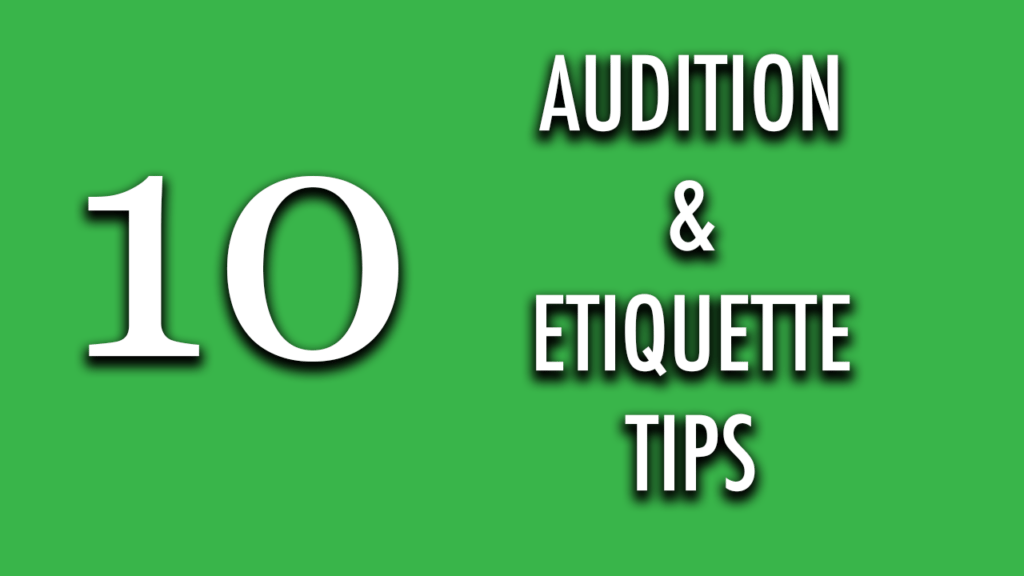 Okay, I should have titled this 10 On-Camera Audition and Etiquette Tips, but I goofed. Forgive me? Good. Now, let's get to it!
Have you ever asked yourself, "What to they expect when I come to a casting?" Or, have you ever left an audition and wondered, "Is it me, or was that a bit awkward?" Whether you are new to the business or a savvy vet looking for a refresher on etiquette and general preparation advice, this post is for you.
1. Celebrate the Opportunity
The audition itself is cause for celebration. It's a win. You were specifically selected from a group of other actors in your type category, which means that your marketing or your skills (or both!) are working. Boom!
Tip: Don't think of the audition as a job interview. Think of it as a place to show your interpretation of the character and scene. You're an actor. Go and act!
2. Breaking down the Breakdown.
Breakdowns contain project specs and descriptions. You will find details about production dates, callback dates, rate of pay, character biographies, and more. Your agent receives breakdowns from casting directors and other producer types, and if you are selected to audition, then these breakdowns are passed along to you so you can prepare appropriately.
If you are not represented, then you might be hunting for auditions yourself and seeing notices on casting sites like ActorsAccess, Theatre Puget Sound, Facebook, etc. When you are invited to audition, you will typically see a breakdown, that, if well constructed, will have all kinds of information pertinent to the project. In the least, you will want to examine the character biography so you can make appropriate wardrobe choices.
Tip: Dig deeper with your research if information about the director or producer is provided. You can look these names up on IMDb and get a sense of their work and style. Knowledge is power, and the more you know, the more thoroughly you can prepare!
3. Headshot + Resume'
Even though we are living in the digital age, you will always want to travel with your headshot, and it will likely be collected when you arrive at your audition appointment. Make sure your resume' is attached to the back.
Tip: Always keep extra headshot/resumes in your car. This way you will never come to a casting empty handed.
4. Lobby Etiquette
You will want to arrive a bit early, especially if you were not given sides or material to prepare. By arriving early (15 minutes) you can check in with reception and find out what will be expected in the room (if there were no sides to prepare, sometimes storyboards will be provided so you can get an idea of what you will be doing during the audition). If you were sent sides ahead of time you can probably make your arrival 5 minutes early, which is definitely recommended if extended wait time in a lobby full of actors makes you anxious. Since most auditions will have some kind of sign-in and paperwork process, giving yourself 5 minutes extra really helps.
It should not need to be said, but be kind and courteous to reception (if you aren't, those notes will be shared with casting), and once you have signed in, do your best to relax. You can continue your prep, or if you feel ready to go, read a book or pop in your earbuds and get centered. Heading into the room relaxed and ready will set you up for your best work.
Tip: If you are running late to your appointment, call your agent and let them know.
5. The Room
When you enter the casting room, walk straight to your mark. And walk with confidence. It's your time to shine! Please do not shake hands with casting (germs!), or get overly familiar. Be pleasant and professional and come ready to work.
Tip: If you are not sure where your mark is, walk yourself to a spot in front of the camera. They'll tell you exactly where you need to be.
6. The Slate
Your slate is an important part of your audition. For most auditions, we like to think that the idea being sent with your slate is along the lines of, "Hey, nice to meet you. I am easy to work with." Your slate will include, in the least, your first and last name, but might also include your agency, your age (if you're minor), your height, and any conflicts you have with the production dates.
Tip: Slating "in character" is fine if you are reading for a more sinister/serious type role (e.g. No need for a "commercial" slate if you are auditioning for a bully role). Slating is always done with an eye-line to the camera.
7. The Read
If there is dialogue, it's fine to hold your sides, especially for the first audition. After all, if you happen to forget a line it really helps if you have your script right there with you.
Tip: Do you best to be as familiar as possible with the words so your eyes can be out of the page and directed toward your scene partner or at the lens.
8. The Redirect
So, you made it through that first read. Now, they are giving you a redirect! Stay open. Listen carefully. Enjoy the second take!
Tip: Ask for clarification if you need it. And, if you have sides, ask, "May I have a sec?" and rehearse the adjustments with yourself before the camera rolls again.
9. The Exit
Not a lot to say here! When your read is done, say thanks, and head out the door.
Tip: Don't linger. The casting team is probably busy, and you already made your (great!) impression when you entered like a pro and crushed your audition!
10. Next Steps
Ok. Now you are done and headed home (or to celebratory drinks/donuts/shenanigans… or, let's be real – back to your survival job). Before you drive away, make a few notes about the overall experience so you can build on your successes, or learn from your mistakes.
Tip: Keep an audition bible so you can note your appointments, track who you are meeting (building and maintaining industry relationships is key), and reflect on the work as your progress.
Follow this link for information about our upcoming classes.
Thanks for reading. If you enjoyed this post, please consider sharing!