Into the Trenches: The Uniform/Costumed Headshot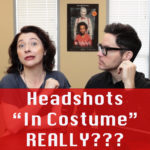 Are Headshots in Costume ON TREND??? Listen to find out.
David sings and dances… Angela adds percussive claps… Could it be that there is now an Into the Trenches THEME SONG?????? Well, you'll just have to listen!
In this episode we discuss a headshot trend that we noticed coming out of the Los Angeles entertainment market: The "In Costume" actor headshot. Will this trend pick up here in the PNW? That's the question!
To watch the episode on YouTube, head here.