Now Casting: Screenplay Reading on June 28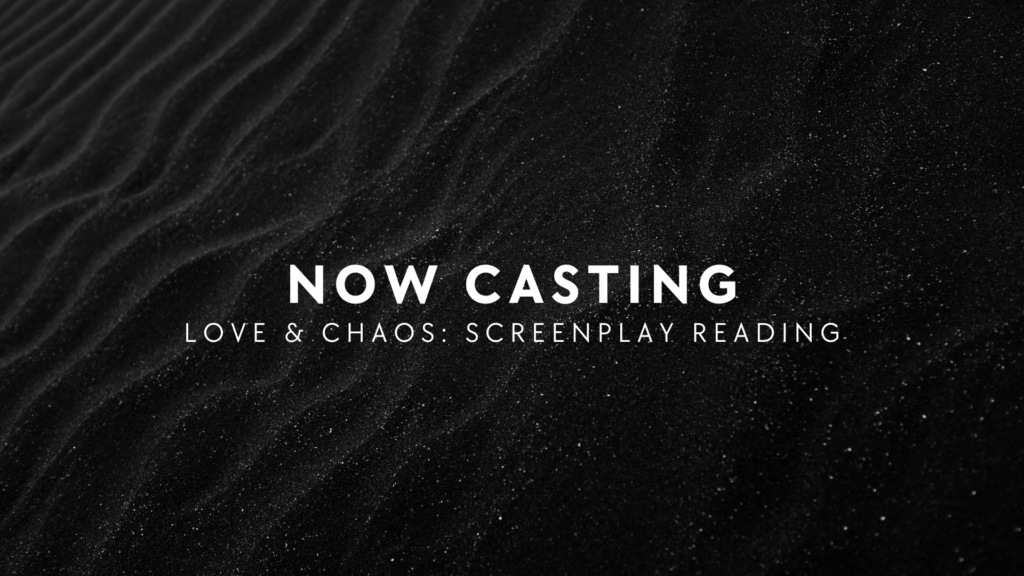 June 28, 2023, 6:30pm
Location: Seattle, WA
Rate: $200 stipend
How to submit: At the bottom
Love & Chaos by Frederick W. Grimm
Logline:  An unlikely group of strangers must learn how to improvise together, both onstage and off, when they discover themselves abandoned in Europe while filming a reality tv show documenting their journey to an international collegiate improv festival. 
The Leading Cast
CARSON, White, 20s. A sweet hearted and somewhat reserved military veteran with a prosthetic leg who struggles with some PTSD from his time in combat. 
TY, Native American (Shawnee), 20s. Antagonistic social activist. He believes in holding the world accountable and bristles at all things money and privilege. 
SELINA, Latinx, Early 20s. Smart, resourceful, and hardworking. Hoping to use the show's prize money to become a first generation college student.
SOPHIE, Asian American, Early 20s. A rich social media influencer who lacks any real, genuine connection with anyone in her life. 
ZACH, Black, Early 20s. College football player struggling with self-doubt after a knee injury.
AUSTIN, White, Early 20s. Talented, but arrogant Ivy-league elitist who is quick to blame others and resents the others for their lack of improv training and interest. 
HANNAH, White, Early 20s. An intern at Cooper Productions. Keeps her emotions in check by micro-managing her life. This role is cast for the reading.
DANI, White, Early 20s. A fun-loving and athletic Montana girl who is always looking for adventure. This role is cast for the reading.
–
The Supporting Cast
MICHELLE, 30/40s, Intelligent and capable, though unassertive showrunner at Cooper Productions.
CHUCK, White, 30s-40s. Cooper's bumbling sidekick. An idiot yes-man with little to offer. 
DIMITRI (40s Eastern European) Estonian "business" man. He has money and power and expects to get what he wants. 
FREDERICK (Lithuanian 20s)- Film student hoping to further his career and experience. Eager, friendly, and optimistic. 
DOMAS (40/50s Lithuanian) – Frederick's dad. A loving father who is proud of all of his kids and eager to help see them succeed. 
EDUK (30s/40) Dmitri's henchman. Unimaginative with no leadership capabilities or impulse. 
EMCEE (40/50s) – Announcer at the Improv Competition. Charismatic and gregarious.  
LAURIE (30/40s)- Former employee of Cooper Productions. She finds a way to get back at Cooper in obtaining the show's footage.
JASON COOPER, 30/40s, Owner of Cooper Productions. He cares about money and being esteemed. A real prick. This role is cast for the reading.
  
ASSORTED VOICES TO BE READ by ONE ACTOR:
ITALIAN WAITER/MUSEUM SECURITY 1 & 2/POLISH POLICE OFFICER/BUDAPEST TOURIST 1 & 2/MIDDLE AGED TOURIST/OLDER TOURIST/SHOUTING AUDIENCE MEMBER/LITTLE GIRL/BEAUTIFUL WOMAN/POLICE CAPTAIN (Lithuania)/POLICE #2/LOCAL TEEN/POLISH OFFICER/POLISH POLICE (pg. 89)/HANNAH'S FATHER (VO)/HANNAH'S MOTHER (VO) – various additional characters read by an actor.
For the reading, some actors might be asked to read multiple roles.
Experienced readers, please.
Send headshot, resume, reel, and the role name you'd like to be considered for to David Hogan: David AT Mighty Tripod .com