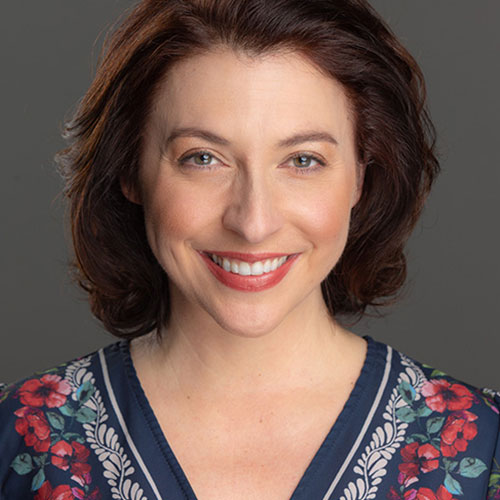 Angela DiMarco
MTAS Co-Founder
Director of Youth Education
I started acting on stage and screen when I was 8 years old, I haven't stopped since. As a teaching and performing artist, I feel I can offer actors my personal experience and work with them on building their own.
I have performed with so many incredible artists, both celebrity and NW locals. I had the privilege of meeting Shirley MacLaine in my first feature film, when I was only 10 years old. I've worked with award winning director, Lynn Shelton, in the comedy series, What the Funny. I starred in the holiday classic, Switchmas, alongside Elliott Gould and David Deluise.
One of my fondest memories was acting with Russell Hornsby in my network TV debut on NBC's GRIMM. Russell and I talked about our passion for acting in both theatre and film. Which is also why I love working with theatre actors, to help them navigate going from the stage to the screen. I also have been creating with Tom Skerritt since 2013 and have learned so much from his years of experience. All of this and the fact I love helping actors reach their full potential, is what makes me a great teacher and acting coach.
I work with actors where they are at in their career. I help you make realistic goals and together, we achieve them! Many of my students have their own production companies, have signed with talent agents, are starring on TV shows, have produced their first film or play and the list goes on.
What do YOU what to do in your acting journey? Let me help you make it a reality.
~ Angela
We brought Coco to Angela DiMarco at Mighty Tripod when she was 6 years old and couldn't even read yet! Coco had already been bitten by the acting bug and was involved in community theatre and monthly acting workshops.
We were referred to Angela when Coco said she was ready to take it up a notch, and that is exactly what Angela helped her to do. It never ceased to amaze me how she could embrace Coco's uniqueness and coax out the right parts of her to suit and embrace each part she went after.
When Coco's role for Olivia from "Gabby Duran and the Unsittables" came up, it was Angela who helped her prepare for the auditions and really think about who Oliva was as a character. I really feel that she has helped Coco evolve as a person and as an actor and we will continue to seek Angela's guidance as Coco tackles new projects!
I came back to Seattle after acting conservatory in New York.   I had taken Mighty Tripod Camera 2 before I left and while in New York I had an intuitive hit that Angela would be my mentor, teacher and coach when I got back.  
In Camera 2 I could tell she was a master teacher, all around good person and the coach who could help me to my next stages as an artist.  I have taken a lot of acting classes, in Seattle and New York, and unique to Mighty Tripod:  Mighty Tripod students get acting gigs.  In other words, they work. 
In addition to career coaching, she has taken me up to higher levels of my craft than I knew were out there for me.  She did this through unrelenting positive attitude and master teaching of the craft of acting. 
I am a dedicated professional to my primary career to being a Doctor and I know what professionalism is: passion, dedication, follow-through, accountability.  Mighty Tripod is all of those.
My daughter, Kara, has been taking classes and private coaching with Mighty Tripod Productions for the past two years. I have seen a huge growth in her acting abilities and the number of roles she has been cast in thanks to Angela and David! 
David and Angela are amazing coaches. Full of energy and just down right good people. My daughter sees Angela for her coaching needs but more times than not David is there to help as well.
Book a coaching appointment today!
If we didn't answer all of your questions, feel free to drop us a note.