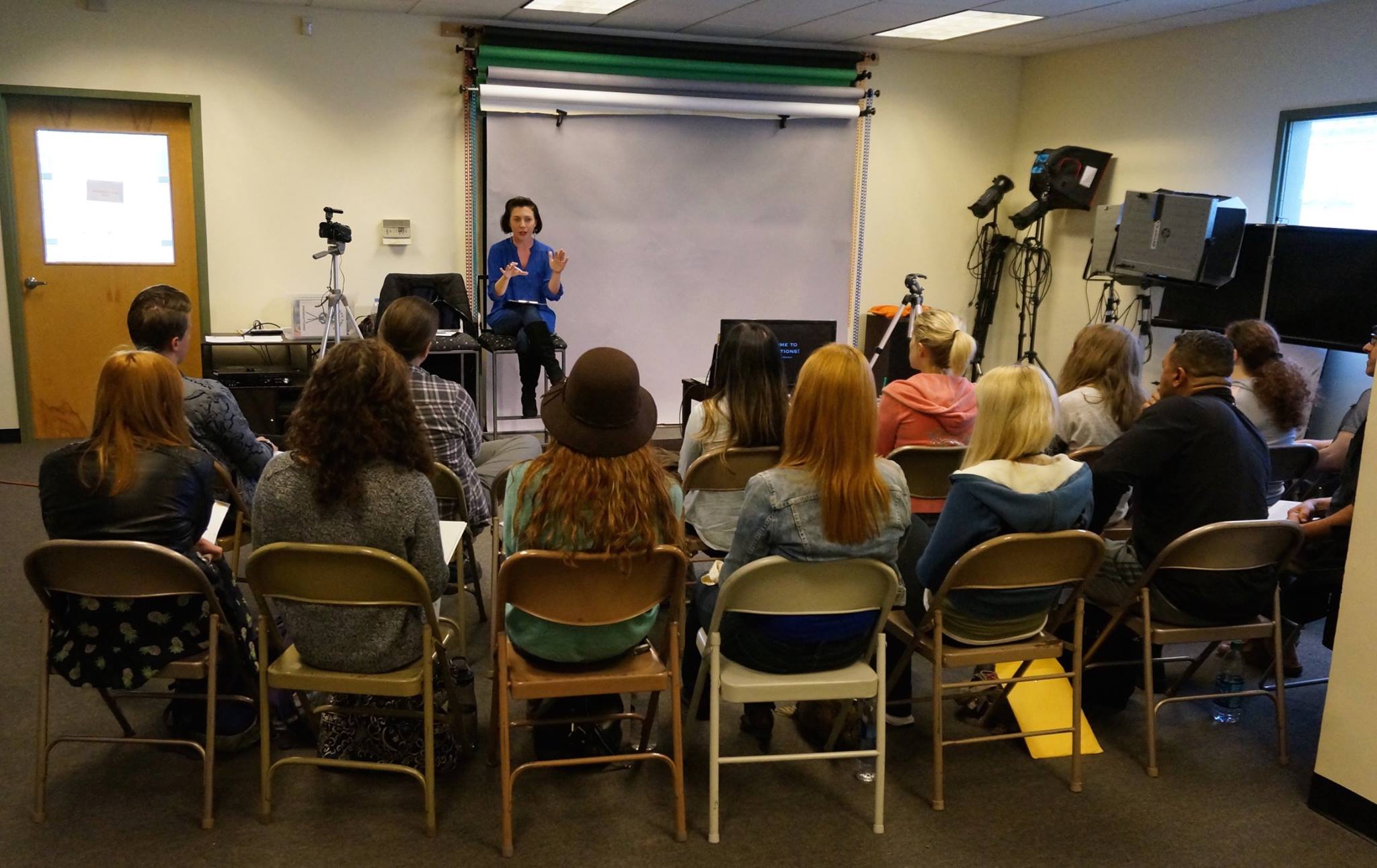 On-camera training for actors in the Seattle area. We teach with passion, experience, and consideration for each of our students.
5-week Courses
Our 5-week courses are designed for actors of all levels. Our class size is usually around 12, and our students get a ton of personal attention.
Private Coaching
Private coaching for actors means you get a lot of attention and you can develop a lot of skills quickly. Typically we work on audition coaching, self-taping, and submissions. Coaching is available with David or Angela.
Workshops
We offer one-day and weekend workshops on special topics, while occasionally hosting casting directors and out of town industry guests and experts.
Plans and Pricing
Our 5-week classes almost always start with Early Bird rates, where you can get the best value on our incredible education service. Private coaching rates are listed below, and our workshops are competitively priced.
5-Week Courses
Early Bird Discounts ($325)

Camera 1: Foundations (Beginner-Intermediate)

Camera 2: Scene Study and Character Building (Intermediate-Advanced)

Camera 3: Advanced Acting for the Camera
Private Coaching
Adult Coaching

Audition Coaching

Career Coaching

Monologue Coaching

Self-Taping
Audition Taping
Professional

Coaching & Taping

Upload to YouTube, Vimeo, or file creation

Sessions in White Center & Georgetown
What Our Customers Are Saying
Don't just take it from us, let our customers do the talking!
"This is a very beneficial team to study with. Awesome folk. If you're a seasoned actor or a newbie, you can take something substantial away. Whether it is refreshing on breaking down a script, some technical camera aspects, chatting about the business or, most importantly, character building then you're going to the right place. It's a healthy mix of renew, revitalize and connect. I've also had great networking through the class. Lastly, they recognize that one approach doesn't work for all actors, (but will offer great approaches) they just want to see and get the best out of you. Looking forward to taking more. "
"I'd been working in Seattle for the past four years with some success in both theater and film, but I knew that there was more to learn that I just wasn't getting "on the job." David and Tony's class came recommended by Jodi Rothfield, so knew it would be a good place to start. I went in thinking I needed to brush up on my camera technique; where to look, how to stay in frame, how to play to the camera, etc. What I got was that and more: I've deepened my approach to acting, both for the camera and for the stage. I've got a new set of tools I can use to prepare more fully for auditions and roles. And, most importantly, I've got a new sense of confidence that's been making a big difference in real-world casting and on-set situations. I got so much out of the first class that I went on to take the next in the series, and I plan to continue with Mighty Tripod's ongoing classes and workshops."
"These guys, well they are amazing teachers. They have all the information that you could ever need to get started (or refreshed) in the business around here! I have learned so many things about auditioning, commercial work, what a good headshot looks like, how to develop a scene, character development and hours of scene work! If you are wanting to get started and don't know where to start, YOU HAVE FOUND IT. Seriously. I feel way more confident now! Thanks, Mighty Tripod!"
Don't Be Shy
If we didn't answer all of your questions, feel free to drop us a line anytime.